Published: February 28, 2023
Aging manifests in so many different ways. Some people develop fine lines and wrinkles, others primarily deal with dark spots, and some find themselves battling dullness and dryness.
There are plenty of face serum formulas out there designed to target the appearance of aging skin. While all-rounder products are great, results are usually much more noticeable if you use a face serum designed specifically for the visible signs of aging that you're experiencing.
So, if you're wondering which Avinichi serum is the best one for aging skin, the answer to that question all depends on how your skin is aging. Read on to learn more about the different Avinichi face serum products available, along with how to find the best match for your skin.
For Fine Lines: The Alpha Fine Line Surface Filler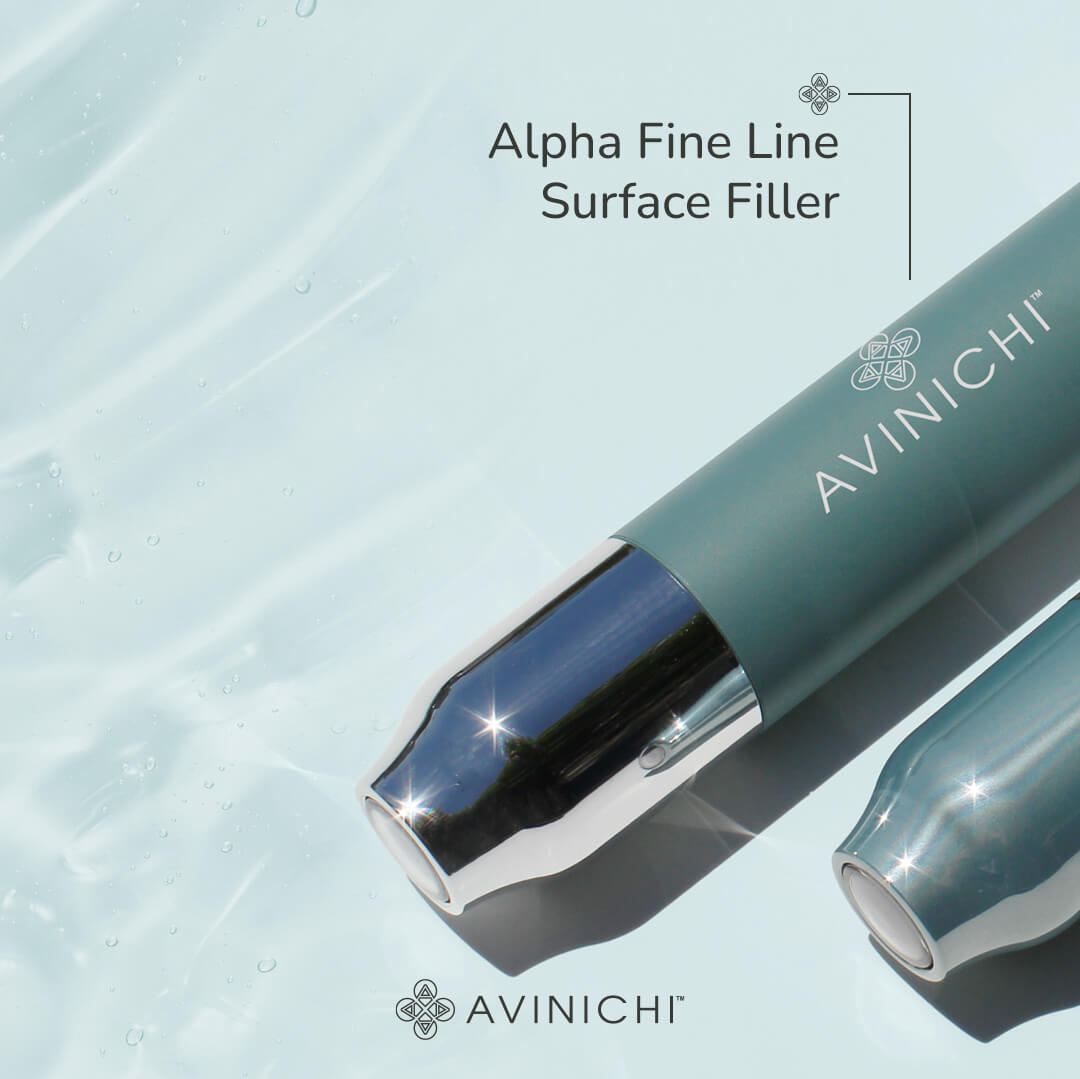 Let's start with fine lines – one of the most common signs that your skin is starting to age. If you've noticed fine lines appearing on your face, then this means that the amount of collagen in your skin is starting to decline. This causes the skin to lose its firmness and elasticity, resulting in the skin beginning to crease.
If your fine lines haven't yet developed into the deep wrinkle stage, then that's great news as you'll find it much easier to diminish their appearance with the use of the right face serum. And for that, we have the Avinichi Alpha Fine Line Surface Filler.
This isn't like a regular face serum that takes weeks to produce an effect. Instead, this formula works almost instantly to erase the visibility of surface lines. This is all thanks to a few special ingredients in the formula, such as DMAE and acetyl hexapeptide-8. Both of these are able to immediately smooth away the appearance of fine lines, giving the skin a firmer, crease-free finish.
Of course, while instant results are great, they're only temporary, and chances are that you want the visibility of your fine lines gone for good. That's why we've also included a few long-acting ingredients in this formula. Reishi mushroom extract is one of these. Research shows that not only can it help to contribute to a smoother complexion, but it will also help to prevent the appearance of future fine lines.
For Deeper Wrinkles: The Wrinkle Rewind Filler
While our Alpha Fine Line Surface Filler will help to reduce the visibility of wrinkles too, we have another formula designed specifically for those deeper creases; the Wrinkle Rewind Filler. 
This is another one of our topical face serums that produces instant effects. Simply twist the syringe to dispense the product, apply it directly to your targeted wrinkle, and then hold your face expressionless for a couple of minutes. After this, look into the mirror and that wrinkle will be significantly less noticeable!
One of the fast-acting ingredients in this face serum is sodium hyaluronate. It's one of the most revered humectants in the industry because its moisture-binding properties outcompete the alternatives. As a result, it quickly plumps up the look of the skin. By volumizing the complexion in this way, surface wrinkles become less visible, with the skin taking on a much smoother finish.
We've also included vitamins A and E in this formula. Both are highly recommended for those who are battling the visible signs of aging. Vitamin A is a superstar that diminishes the look of wrinkles while vitamin E keeps the skin moisturized. Both are powerful antioxidants too and they support each other beautifully. Their effects are enhanced even further by the antioxidant-rich plant oils in this serum, including avocado and sweet almond.
For Dullness, Roughness, and Discoloration: The Hydrating Multifruit C-Serum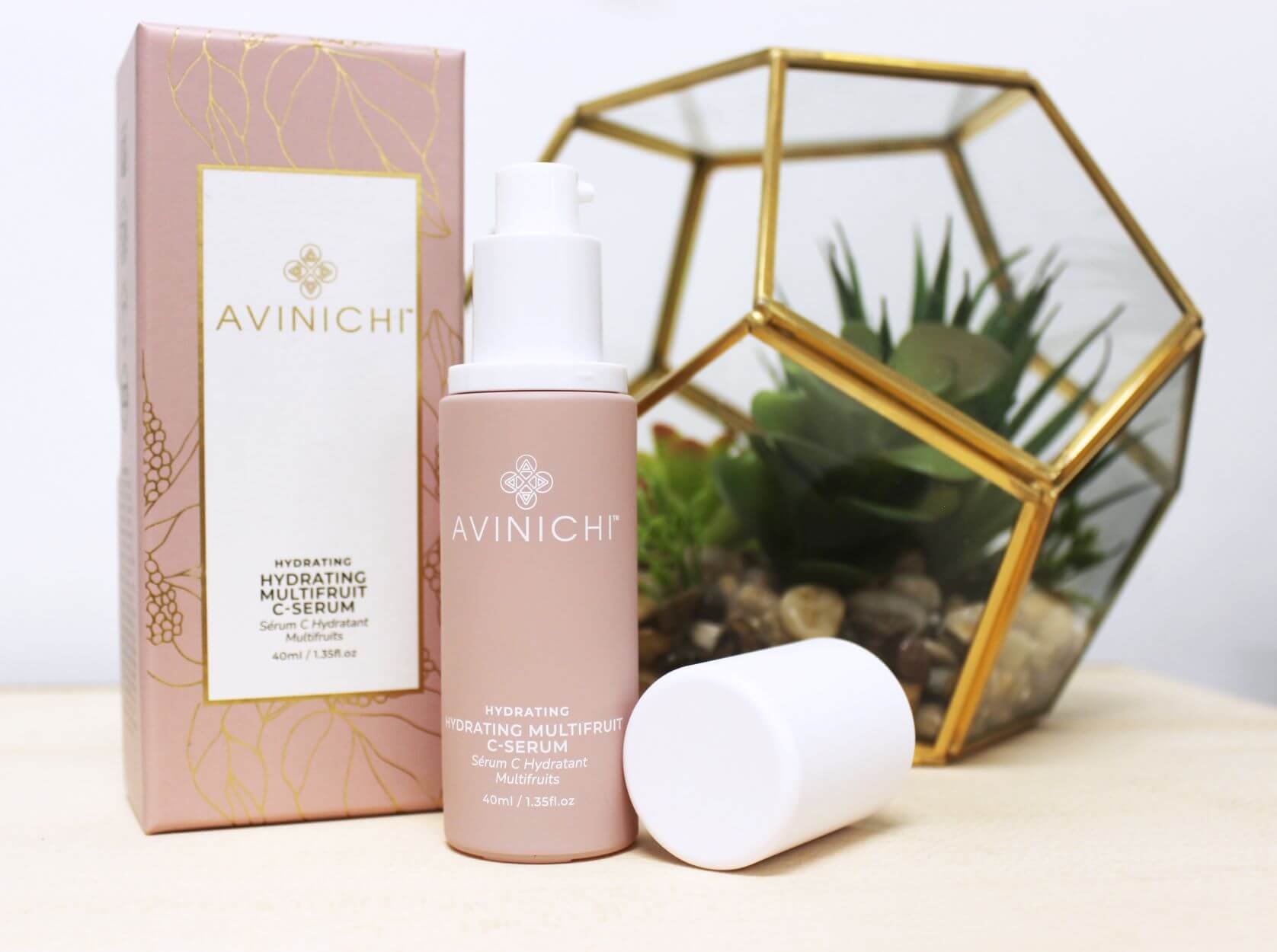 As the skin ages, cell turnover slows down. This is the rate at which your skin produces new skin cells to replace its older cells. As it does so, it sheds those dead cells to reveal the fresh skin beneath.
This decline means that, with age, older skin cells are more likely to build up on the surface of the skin. This gives the skin a dull and rough appearance. It prevents light from properly reflecting off your face, which can leave you looking tired and ashen.
Exfoliation helps with this, but there's only so much you can exfoliate without damaging your skin. So, what do you do in between? Fortunately, there's a simple answer – you turn to a vitamin C face serum, just like Avinichi's Hydrating Multifruit C-Serum.
This is a vitamin C serum with a difference. It contains two forms of the antioxidant; tetrahexyldecyl ascorbate and ascorbyl palmitate. Just a single form of vitamin C is enough to noticeably brighten the complexion, giving it a newfound radiance. This means that two forms of the ingredient will have you seeing results so much sooner.
To make this face serum even more effective at turning back the clock on your complexion, we've also infused it with vitamins A and E. However, the star of the show is mulberry extract, one of our signature ingredients at Avinichi. Proven to be rich in anthocyanins, which are a type of antioxidant, this botanical helps to lighten discoloration while leaving the skin feeling protected when faced with environmental stressors.
For Dryness and Thin Skin: The Hydrating Antioxidant Serum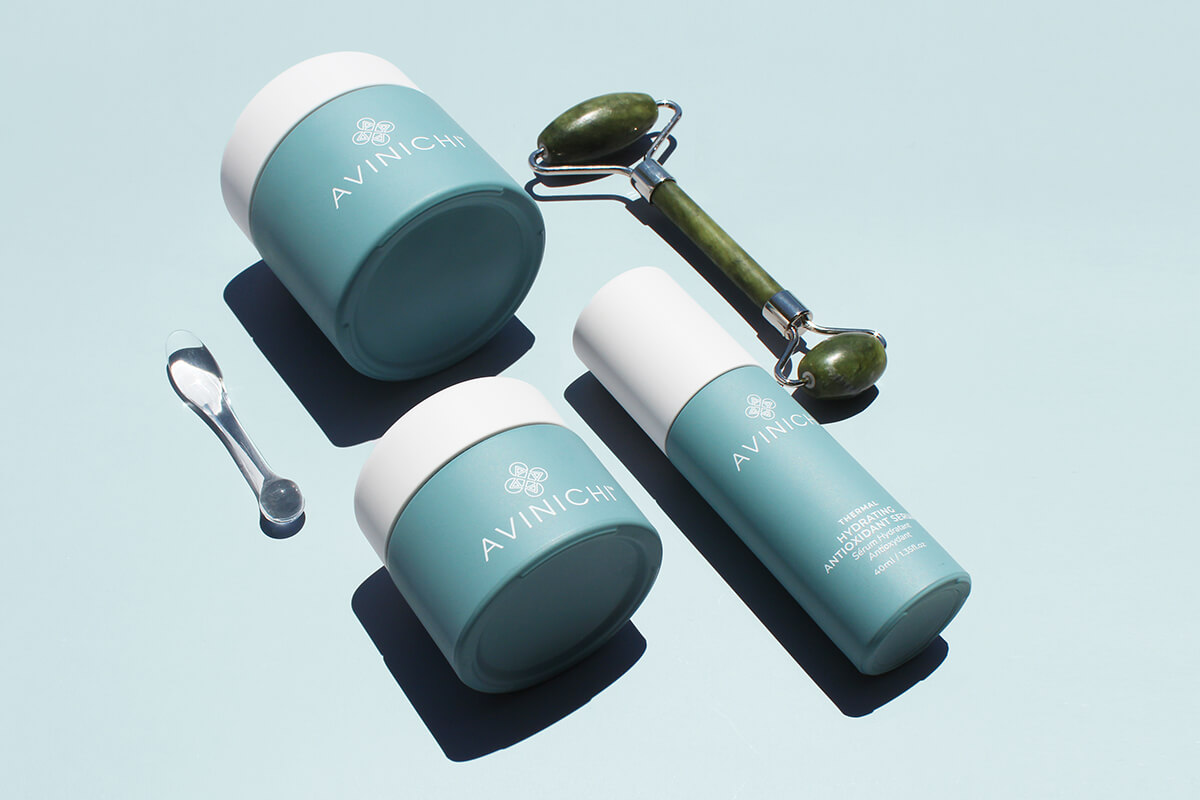 We've already mentioned how natural collagen production declines with age. This is the protein that gives support and structure to your skin, meaning that not only does less collagen lead to fine lines and wrinkles, but it can also cause thin skin too. 
Thin skin looks weaker and more papery, and it's also more prone to dryness. Since the skin is thinner, moisture evaporates at a much faster rate, leaving skin cells thirsty. Even worse, fine lines and wrinkles are so much more noticeable on dry skin, making this something that you need to deal with ASAP if you're trying to reduce the appearance of aging.
If you can relate, then the face serum that you need is the Avinichi Hydrating Antioxidant Serum. This product is in our Phyto Thermal Collection, which also contains a face mask and a cream. All three products are ideal for dry skin, with each one packing a long list of natural ingredients.
When it comes to the face serum, you'll find hawthorn berries, lilac, apple, and reishi mushroom in this formula. When combined with this product's multi-peptide blend, the result is skin that looks thicker, softer, and dewy. 
You'll also notice a number of humectants in this blend, including sodium hyaluronate and glycerin. These are ingredients that deeply hydrate and plump up the complexion, making them a must if your skin looks dry and crepey. 
For a Hollow and Creased Eye Area: The Eye Rescue Phyto-Serum
The skin around your eyes is very different from the skin on the rest of your face. It's thinner and more fragile, making it more vulnerable to the visible signs of aging. While regular face serums are often safe to be used around the eyes, this area deserves special care, so much so that we've created a full range of products designed for this part of the face.
One of these products is our Eye Rescue Phyto-Serum. It's a lightweight and silky smooth formula that plumps up, rejuvenates, and restores the look of the skin around the eyes.
Peptides are at the top of this product's ingredient list. As mentioned earlier, they're a must for giving aging skin a thicker and more supple look.
There are several botanical extracts in this formula too. You'll probably recognize some of them – licorice root is famed for lightening the appearance of discoloration while calendula soothes the feel of the skin. 
However, one that you may not be familiar with is camu camu extract. This antioxidant-rich berry is loaded with vitamin C, enabling it to tighten up the look of the eye area. Its effects are backed up by the inclusion of ascorbic acid in this formula. The most potent form of vitamin C, its antioxidant properties are major, giving it the potential to really transform how the skin around your eyes looks and feels.
Combining Multiple Face Serums
So, what should you do if you're dealing with more than one of the visible signs of aging?
Well, as you can see from the Avinichi face serums we've shared, many of our formulas help the complexion in more than one way. For example, our Hydrating Antioxidant Serum not only hydrates and moisturizes the skin, but it also helps to reduce the appearance of fine lines and wrinkles.
With that said, one of the great things about face serums is that you can add more than one into your skincare routine. If you're dealing with a few of the skin concerns featured above, there's nothing wrong with adding two or three different serums into your daily regimen, so that you can tackle them all with a targeted approach.
The key to getting the most out of each one is to apply them in the right order. Always start with the serum that has the lightest and thinnest consistency, working your way up to the thickest. 
Try not to layer more than three serums over each other. After number three, any other serums that you apply will struggle to access your skin cells. 
Sealing Your Face Serum Off With a Moisturizer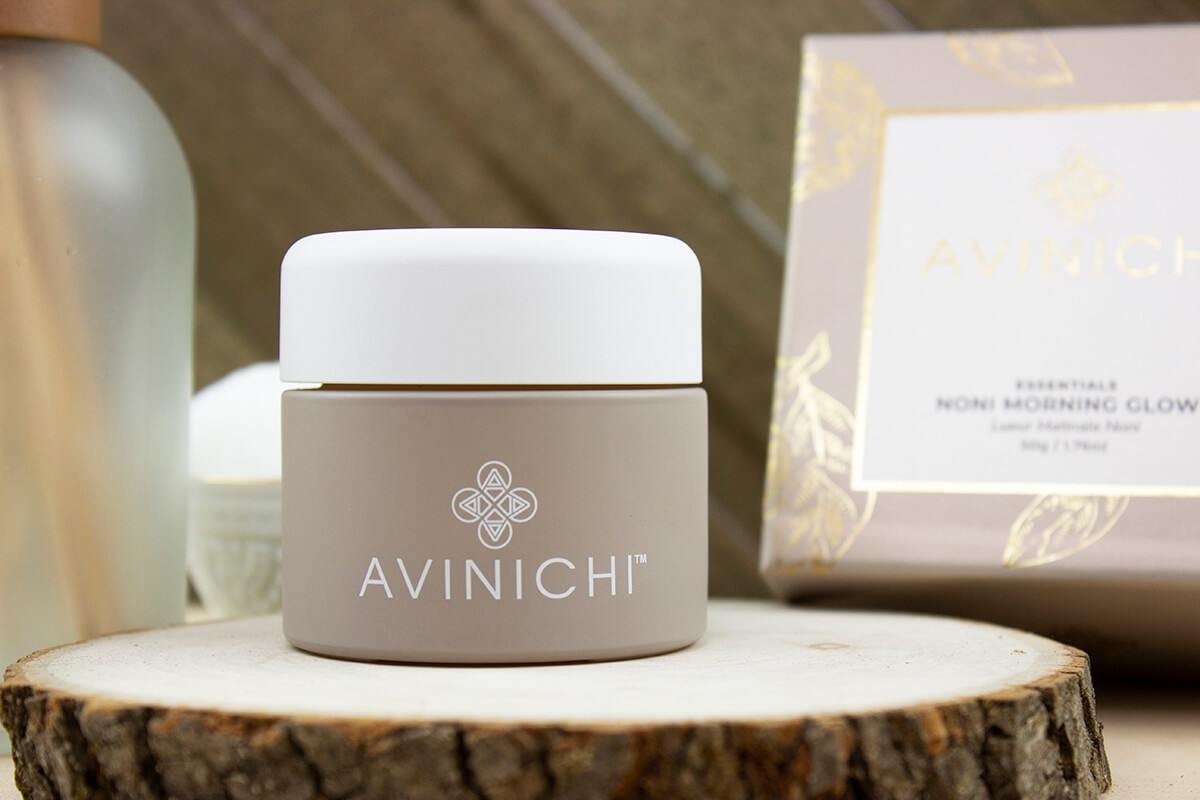 When dealing with aging skin, it's so important to remember to apply a moisturizer once you're done using your different face serums. 
A moisturizer will form a thin seal over the surface of your skin, which helps to push all of your face serum ingredients down into your skin cells. If you don't use one, you'll end up losing a large percentage of your serum to evaporation. This then means that the results you experience won't be quite as dramatic as they otherwise might have been.
If you're applying your serums in the morning, top them off with Avinichi's Noni Morning Glow. This lightweight cream will leave your skin feeling hydrated and protected throughout the day.
Alternatively, if it's evening, finish your skincare routine off with our Noni Night Repair Cream. Filled with plant butters and natural oils, this luxurious moisturizer will have your skin looking perky and radiant when you wake up in the morning.
Which Avinichi Face Serum Will You Be Choosing?
Face serums are a fantastic way to pamper your complexion with a high concentration of vitamins, antioxidants, and other skin-loving ingredients. The face serums that you'll find at Avinichi are always high-quality and formulated with the best ingredients, making these products the way to go if you're looking to erase the visible signs of aging from your face as quickly as possible.
Click here to explore more of Avinichi's bestselling skincare products.