Published: January 15, 2023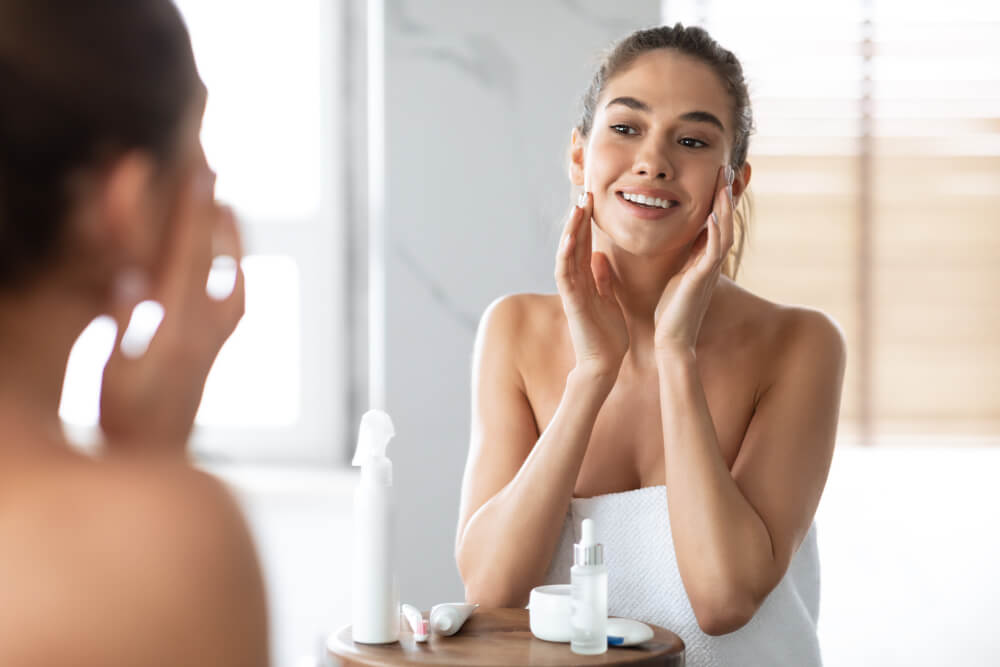 Have you ever found yourself wanting to build your own daily skin care routine, only to end up being overwhelmed with the sheer number of products and ingredients to learn about? What even is a toner, anyway? Which goes first, a serum or moisturizer? Sometimes, there are just so many questions and not enough answers.
With so many things to remember when designing a full-on skin care routine, it can be quite the daunting task to get around to starting one.
But that problem ends now.
Join us here at Avinichi as we discuss the most effective way to build the perfect daily skin care routine just for you.
What to Know Before Designing a Skin Care Routine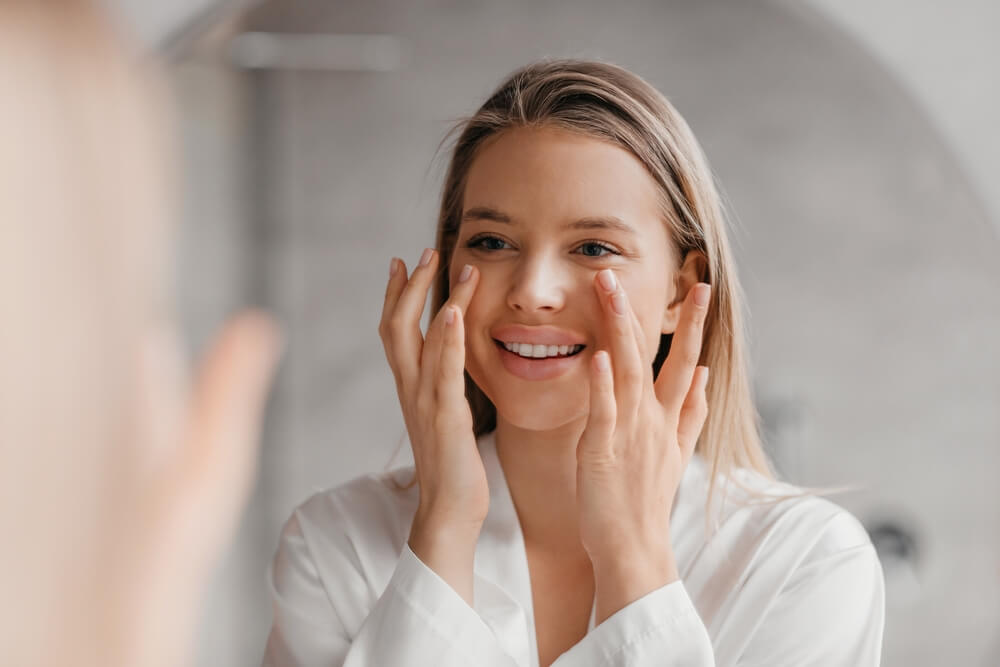 Before anything else, there are a few things you have to identify so you can create a skin care routine that's tailor-fit for your needs. This crucial info can ensure you'll be using nothing but the best products to achieve the glowing appearance you've always wanted!
Here's what you need to know:
Know Your Skin Type
To select the right products for your skin, you first need to know what your skin type is. This is important because choosing the wrong products – those designed for other skin types – may aggravate your skin issues and cause potential problems. No one likes irritated skin or acne breakouts, especially if they're caused by our own negligence.
According to the American Academy of Dermatology, there are five major skin categories:
Dry skin – skin that produces less sebum than needed, leading to a flaky appearance and rough texture. It normally feels tight, and causes a more pronounced look of wrinkles and fine lines.
Oily skin – refers to skin that overproduces sebum, making the face look greasy and shiny (especially late in the day). People with this skin type have a higher propensity to develop acne, though wrinkles appear less visible.
Combination skin – from the name itself, this implies skin that "combines" the characteristics of both dry and oily skin types. This normally means an oily T-zone area, whereas other parts of the face feel dry.
Sensitive skin – pertains to skin that easily gets irritated, and therefore prone to burning or stinging after product application. This skin type can also easily develop rashes and redness.
Normal skin – this is skin that is not easily sensitized, not dry or dehydrated, and amply produces the right amount of sebum to keep the skin looking supple and healthy.
There are multiple ways to ascertain your skin type, ranging from visual inspection to using a blotting paper 30 minutes after cleansing with water and soap. Based on the characteristics outlined above, it should be easy to know which skin type you probably have.
Once you know this, it will be so easy to love and take care of your skin in the best way possible. So, make sure you don't forget to take note of your skin type!
Identify the Skin Concerns You Want to Address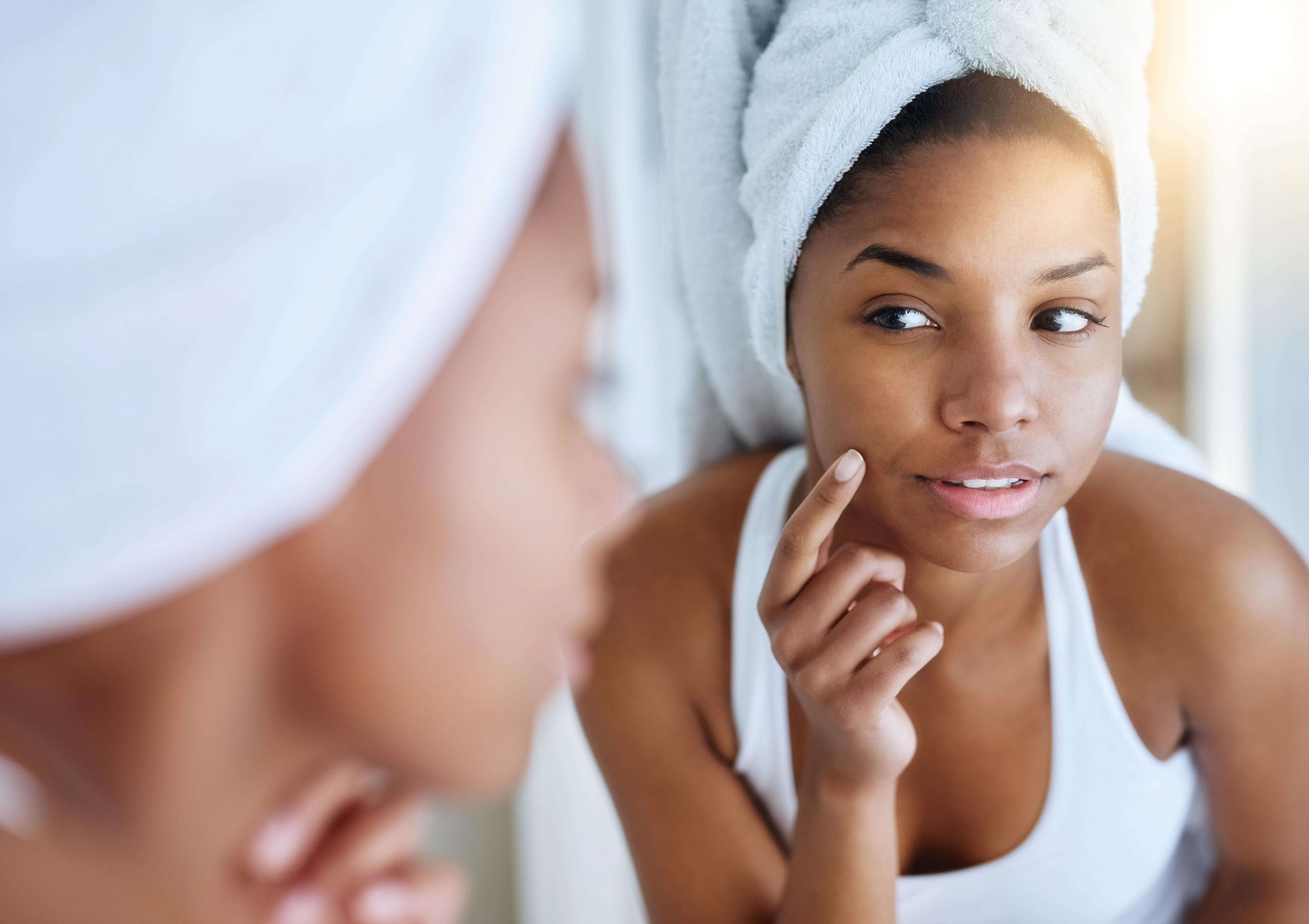 Next, you also need to know what skin concerns you want – and can realistically – target. There are products for virtually all types of skin problems… but you only want to stick with those that will help your skin and its visible issues.
For example, if you have oily and acne-prone skin, you may want to look for products that minimize sebum production, potentially fight against the causes of acne, or reduce the look of acne spots. For dry skin, common concerns include flaking skin, rough texture, and the feeling of reduced skin elasticity. These visible concerns can easily be improved with hydrating products.
Once you know what results you want to achieve from building a skin care routine, you'll be better able to select only the products you need. This also saves you from falling for overhyped products that won't be beneficial for your skin in any way!
Choose the Right Ingredients for Your Problem Areas
In the skincare world, there are superstar ingredients with scientifically proven benefits for a myriad of skin concerns. You'll find these wonder components in many skincare products specifically because we know they work, and they work pretty well:
Retinyl palmitate – contains antioxidant properties that help

diminish the visible signs of aging

, thus reducing the appearance of fine lines and wrinkles
Vitamin C – an appearance-

brightening superpower

, which illuminates the look of the face and evens out the appearance of the complexion

Green tea – an organic ingredient that reduces the appearance of breakouts, along with antioxidant abilities to improve the appearance of aging skin

Sodium hyaluronate – a humectant naturally present in the skin, which binds to water to

boost the skin's hydration

, while minimizing the look of flaking and dryness
Here at Avinichi, we have carefully harnessed the benefits of not only these amazing ingredients, but also of known superfoods, to concoct a wide range of powerful skincare products that work for all skin types. This means double your favorite benefits, from hydration to reducing the visible signs of aging.    
How to Build the Perfect Daily Skin Care Routine
With these in mind, it's now possible to build a daily skin care routine that will make your skin feel rejuvenated and renewed from within.
Here's everything you need to know to effectively create your skincare regimen:
Always Start With a Gentle Cleanser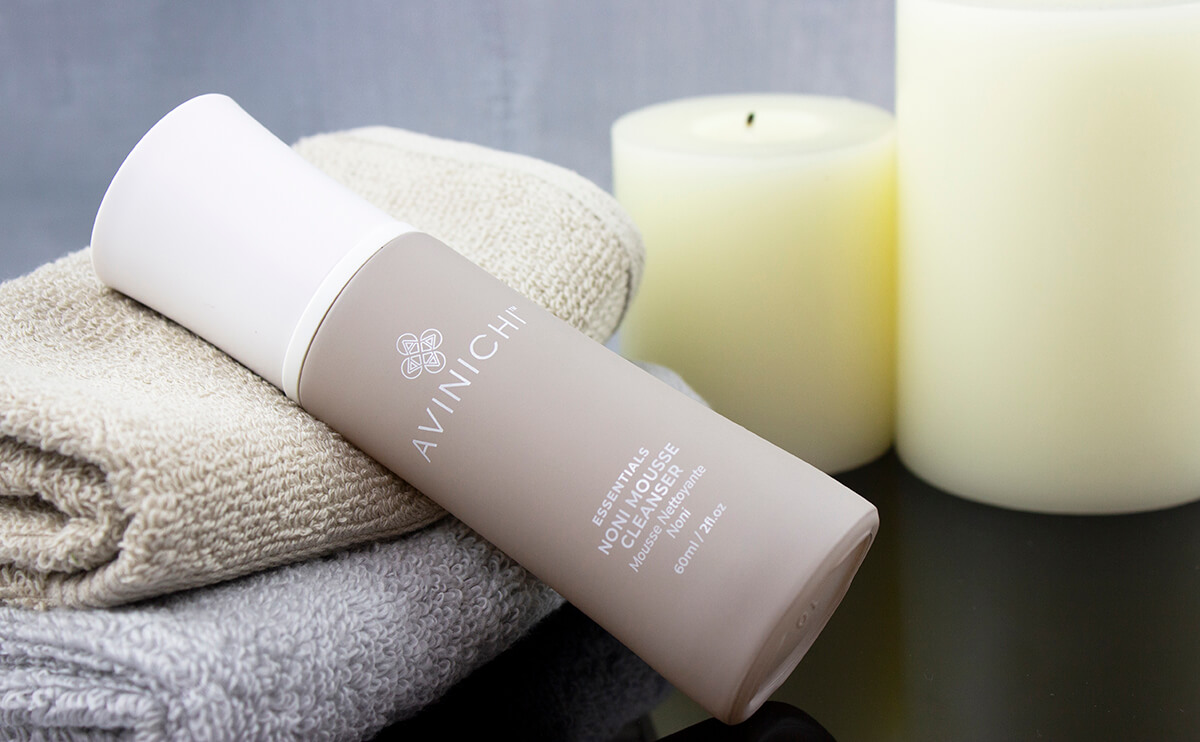 What it's for:
As the term suggests, a cleanser helps cleanse or clarify your skin to remove impurities that may have accumulated during the day, or overnight. This means getting rid of dirt, excess sebum, makeup, sunscreen, and other products that can irritate the skin.
However, a common misconception is that a cleanser has to give you that "squeaky-clean" feeling for it to be effective. On the contrary, this is quite damaging! Using stripping cleansers can dehydrate your skin, and open it to potential sensitivity. So, a gentle but effective cleanser is your best bet.
When to do it:
Cleansing should ideally be done both in the morning and at night. However, even the gentlest cleansers can still be too stripping for those with extremely dry skin types, especially during winter. For these cases, cleansing should be done at night, while washing with lukewarm water (without using a cleanser) can be done in the morning.
Our top recommendation:
The Noni Mousse Cleanser combines noni, plant extracts, and organic cleansing agents for a lush and gentle cleanse that will leave your skin feeling fresh.
Use a Toner to Prep Your Skin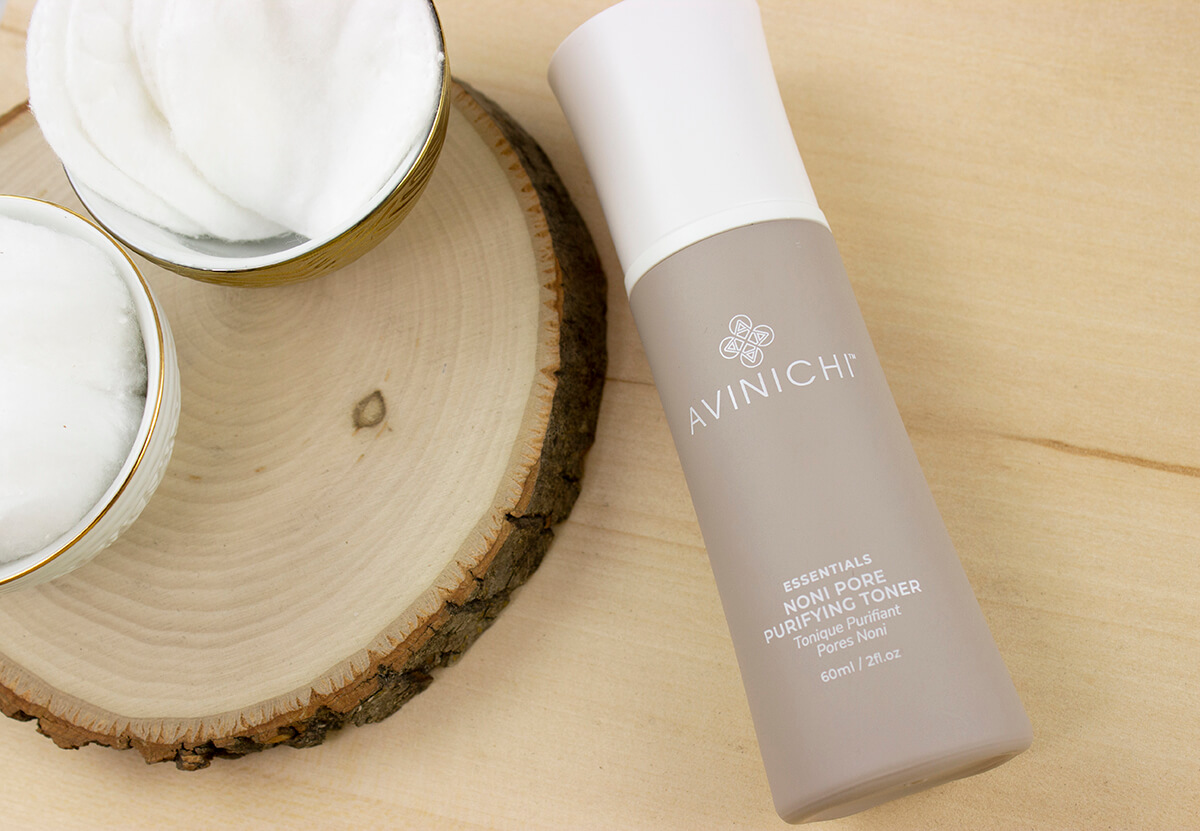 What it's for:
Hydrating toners are the best way to prepare the skin to absorb the succeeding products in your skincare routine. At the same time, they can also provide the skin with a deeper cleanse to ensure all of the day's gunk is removed!
When to do it:
Toning should immediately follow cleansing for both your AM and PM routines.
Our top recommendation:
Avinichi's Noni Pore Purifying Toner contains a chockful of skin-loving ingredients, including Noni and plant extracts, to provide a thorough toning experience for your skin.
Address Visible Skin Concerns With Powerful Serums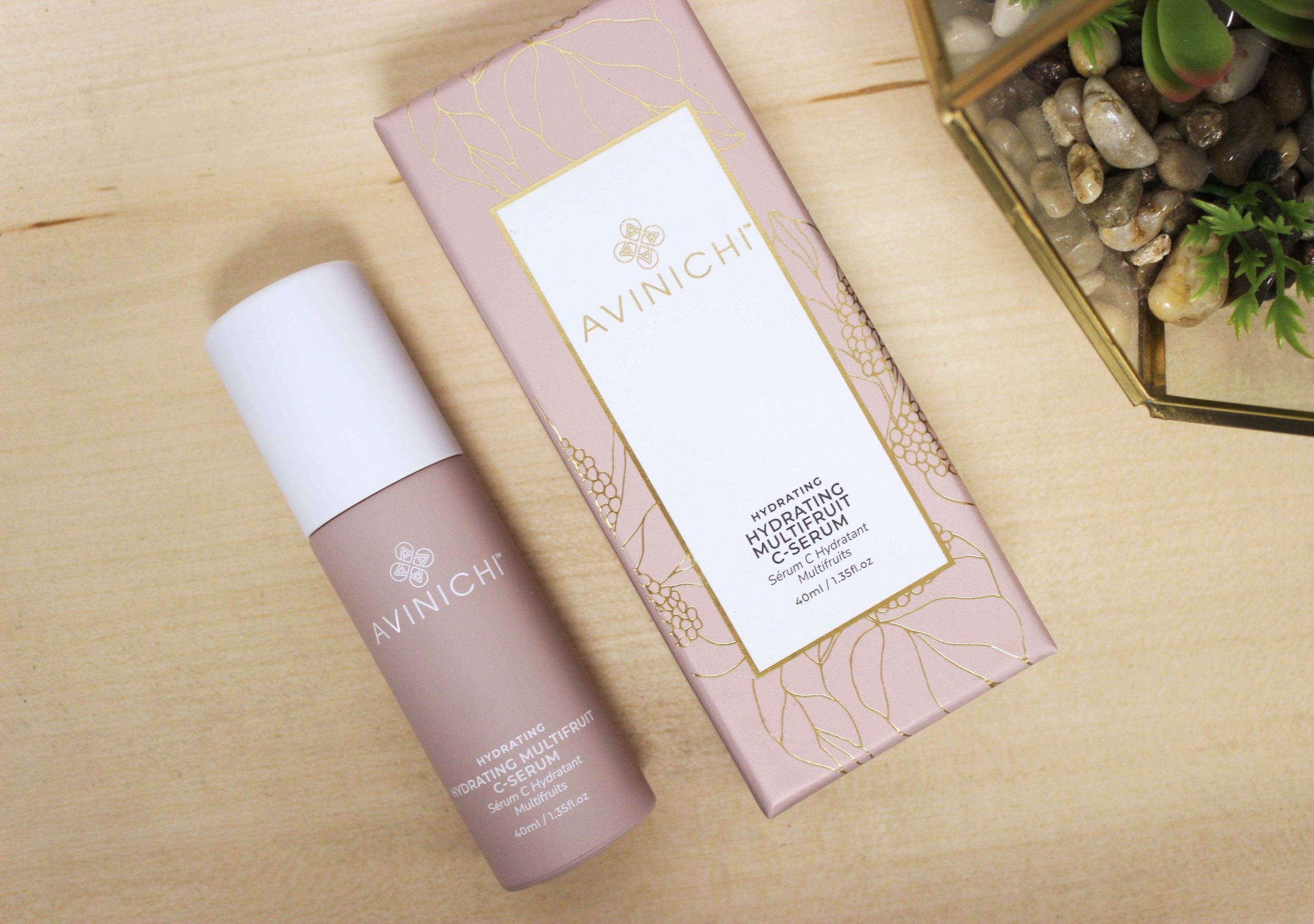 What it's for:
Serums refer to a potent, concentrated blend of exquisite, beneficial ingredients to target different visible skin concerns. There are serums designed to reduce the appearance of wrinkles by combining antioxidant ingredients, like retinyl palmitate, resveratrol, and vitamin C. Complexion-brightening superpowers, meanwhile, harness the benefits of vitamin C, niacinamide, and/or arbutin to bring back the skin's radiant glow.
When to do it:
Applying a serum normally follows cleansing and toning, both in the morning and at nighttime. If you have different concerns, you can use multiple serums across your skin care routine to address all problem areas.
Our top recommendation:
If you need a brightening and hydrating fix for your skin, why not try the Hydrating Multifruit C-Serum? This vitamin C serum brings together the benefits of vitamin C and the moisturizing properties of mulberries, to promote a glowing, supple, and healthy-looking complexion.
Don't Neglect Your Eye Area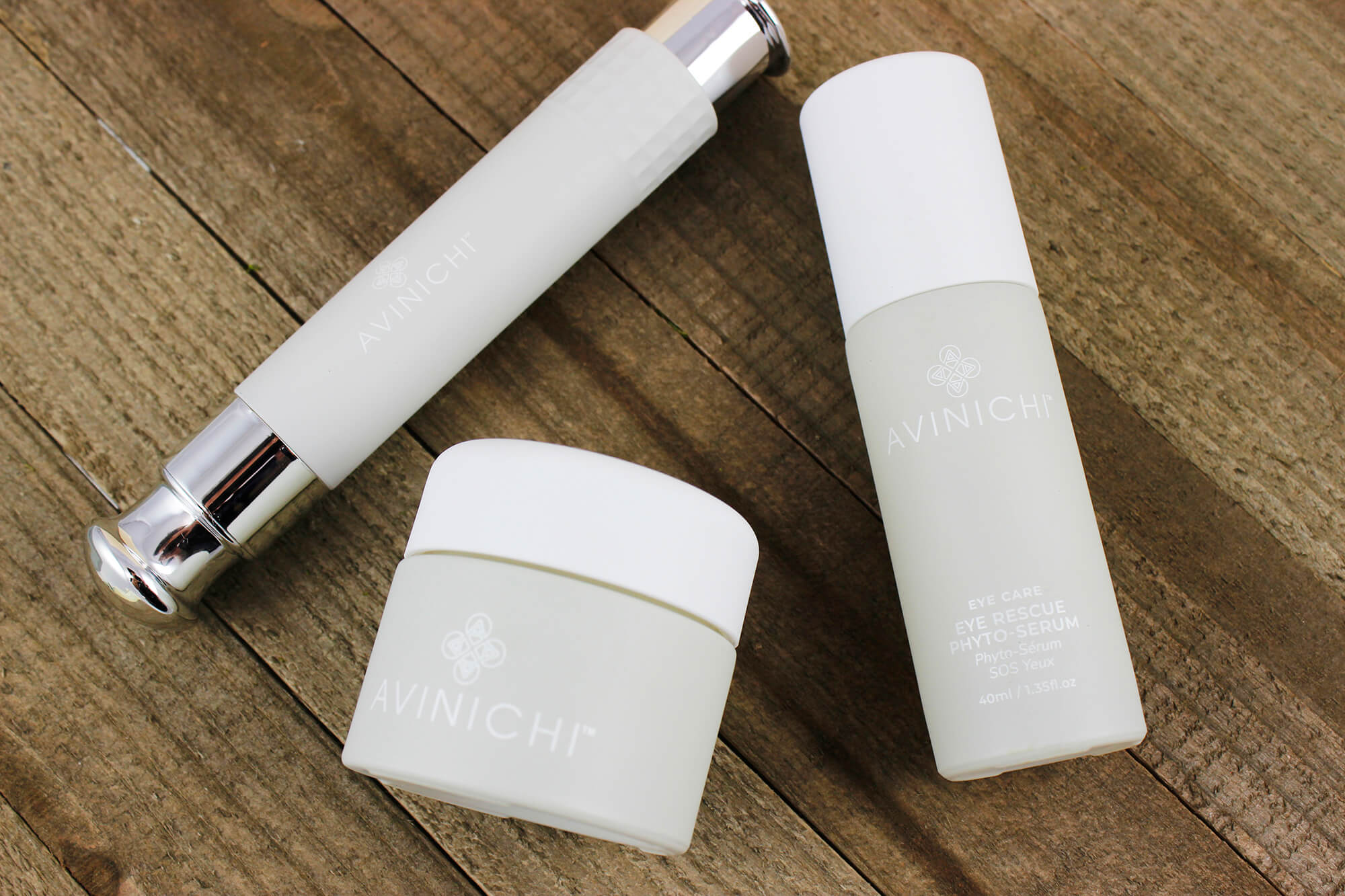 What it's for:
The skin around the eyes is thinner and more delicate than that of the face. This means issues like the appearance of discoloration, puffiness, and fine lines (crow's feet) are more pronounced when they happen in the eye area. This is why there are special products specifically made for the sensitive skin around the eyes.
Using an eye cream or another under-eye product is a great way to improve its look and slow down the appearance of aging, which tends to first become visible in this zone.
When to do it:
Using your favorite eye product is best done at night. Do this after applying serums and before sealing the products in with a moisturizer.
Our top recommendation:
Avinichi boasts a huge collection of eye products for tightening and brightening the look of your eye area.
If your main concerns include visible dark circles around the eyes, the Dark Circle Eye Perfecting Cream might just be the one for you. This rich, luxurious night cream is packed with ingredients that can improve the overall look of your under-eyes.
But, if you're looking for an instantaneous reduction in the appearance of fine lines around the eyes, we recommend the Eye Rescue Phyto-Serum instead. This awesome eye serum features a botanical buffet of flower, leaf, root, and fruit extracts to maximize hydration and make the eye area appear fuller, firmer, and more lifted.
Moisturize, Moisturize, Moisturize!

What it's for:
Regardless of your skin type, finishing your skin care routine with a moisturizer is an absolute must. This ensures your skin is adequately hydrated, especially after a long day of exposure to different damaging elements in the environment! This keeps the skin looking elastic and feeling healthy.
Plus, keeping the skin moisturized can help protect against the visibility of irritation and redness, which are associated with dry and dehydrated skin.
When to do it:
Applying a moisturizer should be done both in the morning and the evening. But, if heavy, occlusive moisturizers make your skin greasy during the day, you can opt to go with a more lightweight moisturizer in the morning.
Our top recommendation:
For a silky but lightweight moisturizer to perk your appearance up throughout the day, we swear by our Noni Morning Glow moisturizer. Made with noni plus other skin-friendly ingredients, this product will surely be the perfect moisturizer to jumpstart your day.
Then, at night, go in with the Noni Night Repair Cream. From the name itself, you can tell that this magical cream is filled with only the best ingredients to soothe the feel of the skin and give it the boost of hydration it needs.
Don't Forget – SPF is Your Best Friend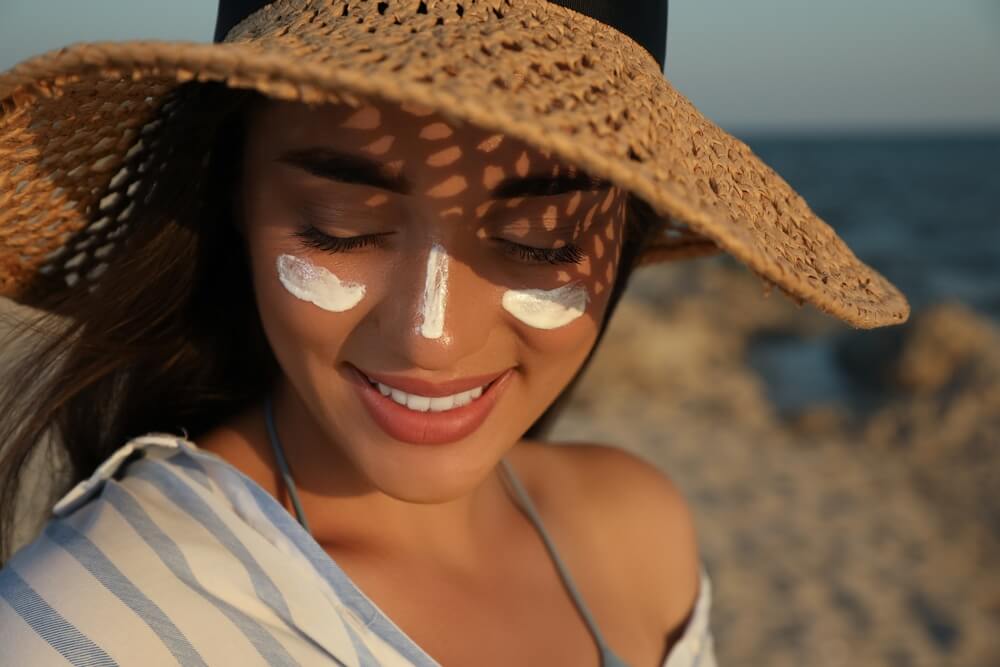 What it's for:
Finally, we have one of the most critical steps in your morning skin care routine – sun protection. There is countless documentation of the dangerous effects of the harmful rays of the sun on the skin, ranging from speeding up the appearance of aging, to incredibly drastic outcomes, like skin cancer. So, sun protection is something you absolutely must not skimp out on!
When to do it:
Applying a good sunscreen must be done every morning, after you finish with your skincare routine. But, if you're going to be out and about, don't forget to regularly reapply your sunscreen to make sure you're always shielded from ultraviolet rays!
Our top recommendation:
For the best possible protection against UV rays, we recommend using a sunscreen with at least SPF30. In addition, look for a label that says "broad spectrum" or "PA++++". This indicates that it's good for both UVA and UVB sun rays!
Once you've established a daily routine, you might be ready to explore weekly additions to your regimen, such as masks and exfoliants. However, these are best incorporated into your routine after you've mastered your basics!
Final Words
Well, there you have it! Building a daily skin care routine may seem hard at first, but it's actually easy as pie, don't you think?
Just remember to always learn as much as you can about your skin, what works best for it, and how you can best take care of it. Then, adhering to your routine won't seem so scary.
Looking for other ways to pamper your skin? Check out Avinichi's other best sellers.